ORIGINAL BMW LIGHT ALLOY WHEELS.
ORIGINAL BMW LIGHT ALLOY WHEELS.
Original BMW Light alloy wheels are the result of a complex development and design process – focused around the individual BMW models and the various challenges. The result is a large selection of light alloy wheels that fulfil the highest quality standards and are perfectly integrated into the overall image of the BMW they were designed for. The whole portfolio of Original BMW Light Alloy Wheels suitable for your BMW model can be found in the Complete Wheel Configurator.

Read more
ORIGINAL BMW TYRES WITH STAR MARKING.
The development of an Original BMW Tyre starts when a new vehicle model is created. In order to guarantee optimum drive response and driving pleasure, Original BMW Tyres are perfectly matched to the chassis and other model-specific requirements. They are developed in close collaboration with leading tyre manufacturers and only if a tyre provides characteristic BMW handling and matches the demanding BMW criteria 100 % on all tests the BMW star marking is awarded.

Read more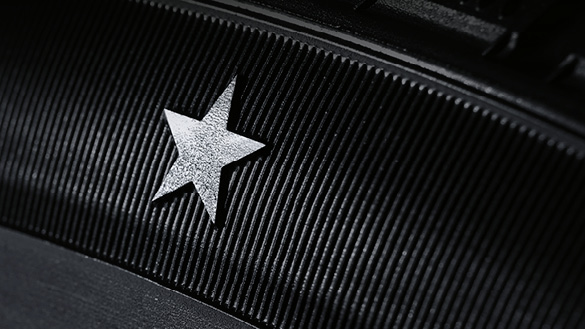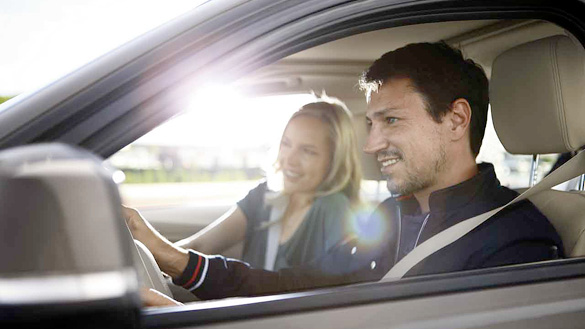 MORE SAFETY FOR MORE DRIVING PLEASURE.
Safety.

Original BMW Tyres with star marking have excellent values in relation to braking distance (on wet or dry surfaces), driving stability while cornering and at high speeds. They are model-specifically attuned to the control systems and available as run-flat tyres (run-flat technology / RSC).


Sportiness.

Original BMW Tyres with star marking guarantee dynamic and optimal driving characteristics even at high speeds and with a very sporty driving style thanks to Ultra High Performance (UHP).


Efficient-Dynamics.

Original BMW Tyres with star marking have optimised rolling resistance and help save fuel. However, consumption varies significantly according to driving characteristics.


Comfort.

Original BMW Tyres with star marking have been model-specifically adapted to generate less noise (internal and external rolling noise), while offering better directional stability and a more comfortable ride.


TYRE PRESSURE CONTROL SYSTEM (TPC).
Tyre pressure has a decisive influence over the characteristics of a tyre. That's why since April 2014 – also due to a legal change – BMW has equipped all new vehicles with a tyre pressure monitoring system (TPC) as standard. This individually measures a possible loss in tyre pressure in all four tyres and therefore increases safety.

More safety.

The right tyre pressure reduces the risk of tyre damage, thereby increasing safety. Only at the correct pressure does the tyre provide the optimum contact surface on the road, offering excellent performance for a sporty driving style as well as for avoidance or braking manoeuvres.


Permanent monitoring.

If the tyre pressure control system measures a critical deviation in pressure (20% below target or below the minimum pressure of 1.7 bar), it notifies the driver early of the potential risk by means of a warning signal, as well as providing feedback on the tyre in question via the Control Display or the multifunction instrument display.


Increased efficiency.

The tyre pressure control system makes for long-term economy: since tyres at the correct pressure generate less rolling resistance, this has a positive impact on fuel consumption. What is more, correct tyre pressure prevents irregular wear and tear, thereby extending the tyre's service life.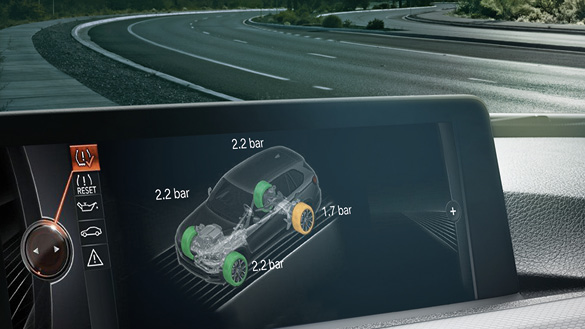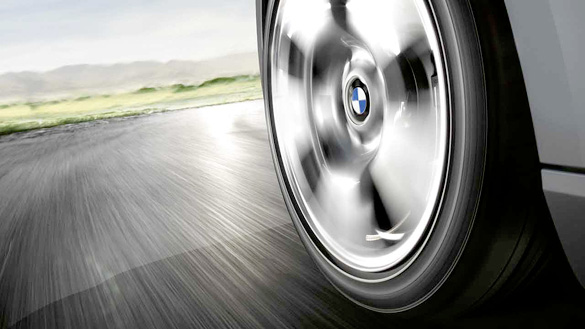 Highest safety.

Original BMW Tyres with runflat technology strongly lowers the safety risk in the event of a flat tyre: instead of putting yourself in danger by changing the tyres by the side of the road, you can drive safely and comfortable on for approx. 80 km (at a maximum speed of 80 km/h) to the next workshop.



Less fuel consumption.

In addition to their runflat properties, Original BMW Tyres with runflat technology decrease total vehicle weight as you no longer need a spare wheel or Mobility Set. This saves fuel and helps lower CO2 emissions. Original BMW Tyres with runflat technology are thus an integral part of the BMW EfficientDynamics measures.


Constant control.

For several years now, all BMW vehicles have been fitted with a Tyre Defect Indicator (TDI) as standard. This allows the driver to monitor tyre pressure during the journey. From 2014, BMW will be introducing an active tyre pressure control system that displays the exact tyre pressure. This vastly increases comfort and safety. The correct air pressure guarantees minimal fuel consumption and reduces CO2 emissions.


More storage space.

With Original BMW Tyres with runflat technology you no longer need a spare wheel or Mobility Set. This saves volume in the boot and gives you more room for other items.



Optimal manoevrability.

Thank to specially-reinforced sides, runflat tyres ensure that the vehicle remains fully manoeuvrable and can still travel for approx. 80 km (at a maximum speed of 80 km/h) even if all tyre pressure is lost. This greatly reduces the danger of the vehicle swerving if a tyre bursts when travelling at high speed.