THE WHOLE WORLD WITH ONE CLICK.
BMW ConnectedDrive Services & Apps in the BMW 3 Series Gran Turismo.
Communication, information and entertainment – the Services & Apps of BMW ConnectedDrive make sure to keep you on the pulse of life even when on the road. BMW Online, for example, offers access to current, location-based information such as weather, news, online searches and also office functions. You can additionally use the convenient and secure smartphone apps such as Spotify – and many more – without any time constraints.
Read more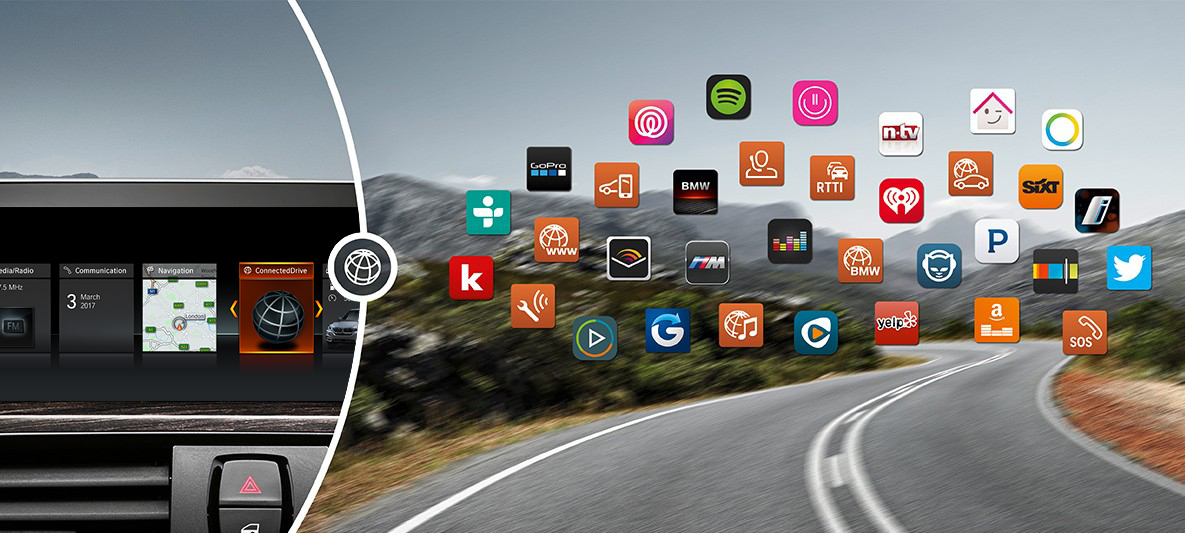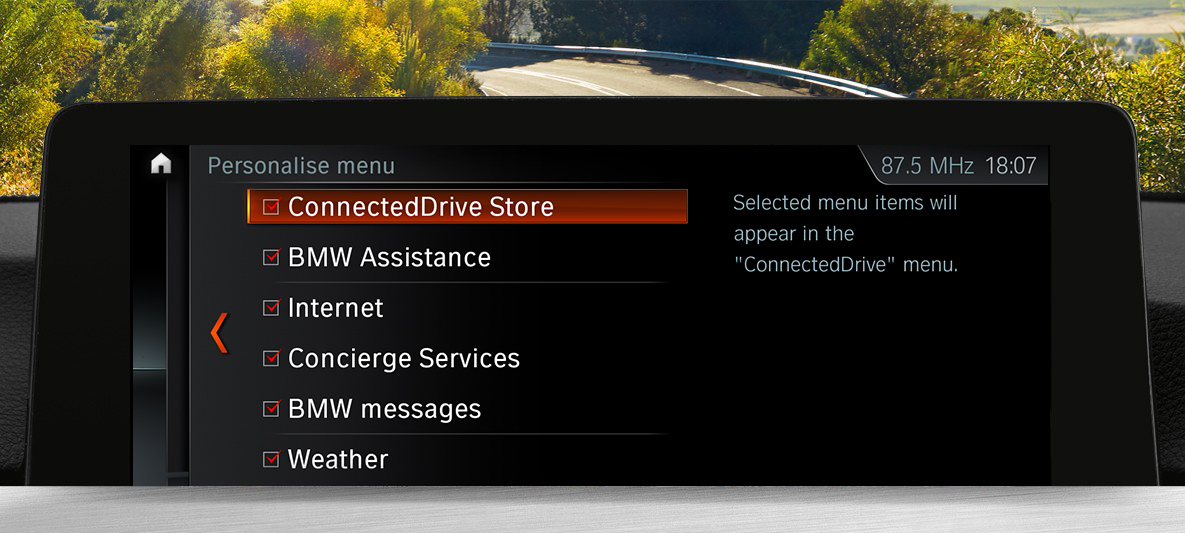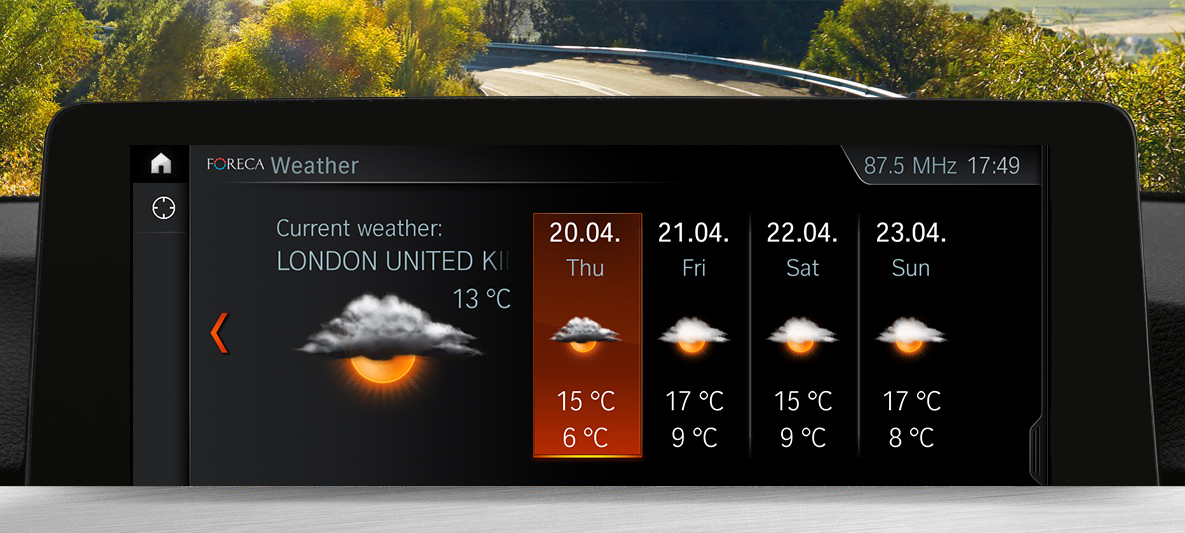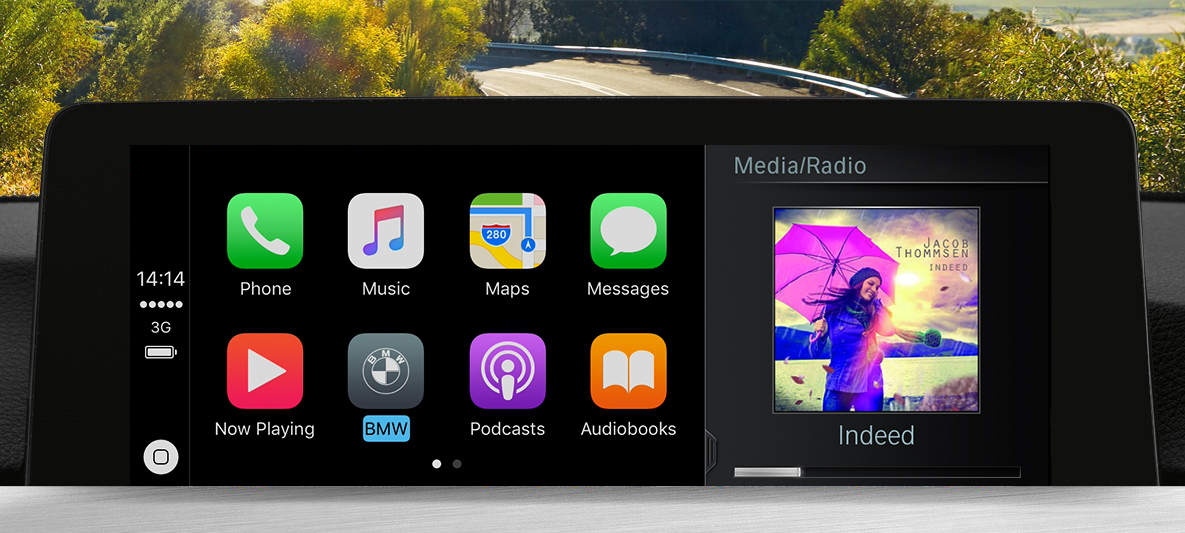 CONNECTEDDRIVE SERVICES.
The equipment option ConnectedDrive Services forms the basis for using the personalised digital mobility assistant BMW Connected in the vehicle as well as the BMW ConnectedDrive functions, which provide the driver with a wide range of information, entertainment and service features while on the road.

The offer includes access to current location-based information such as weather and news, as well as an online search powered by GoogleTM and practical office functions. Services and features such as parking information, as well as travel and hotel guides can be accessed directly in the car without a smartphone via the ConnectedDrive menu.

Convenient, unlimited access to selected smartphone apps is also integrated. ConnectedDrive Services also provides access to the BMW ConnectedDrive Store, in which services and apps can be ordered and extended anytime and anywhere to suit the user's individual requirements. The equipment option ConnectedDrive Services offers all this and more, making every trip in a BMW a real experience.

Preparation for Apple CarPlay®

Thanks to Preparation for Apple CarPlay®, drivers can conveniently use a compatible iPhone® securely and wirelessly while on the go. This allows smartphone content, along with functions such as music, iMessages/text messages, telephony, Siri and selected third-party apps, to be displayed and operated in the regular manner, even via the vehicle's user interface. Preparation for Apple CarPlay can be used via touch input, the iDrive Controller or voice control, depending on the vehicle's equipment.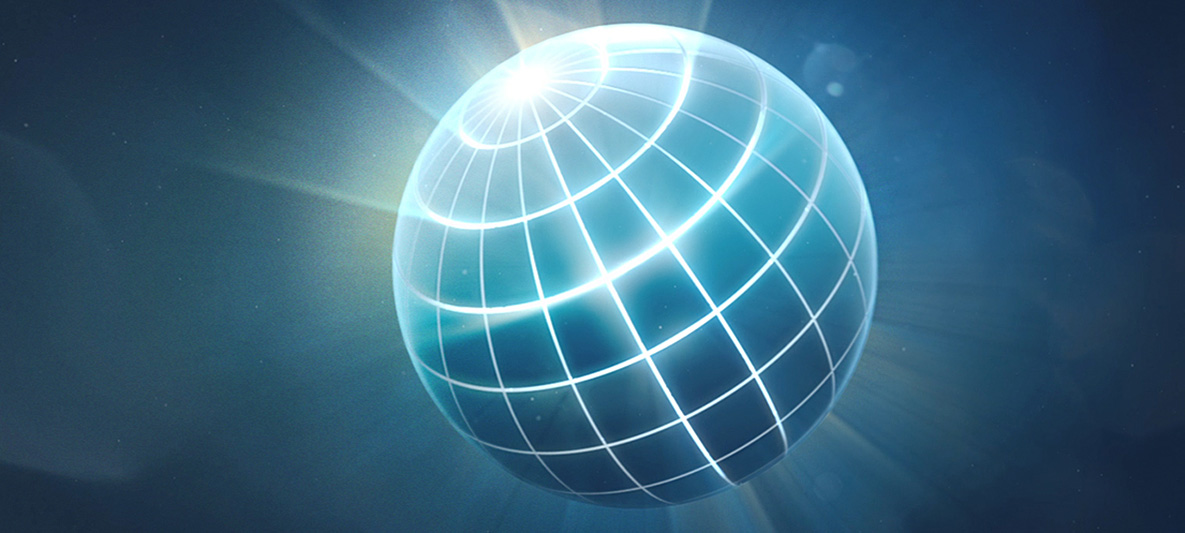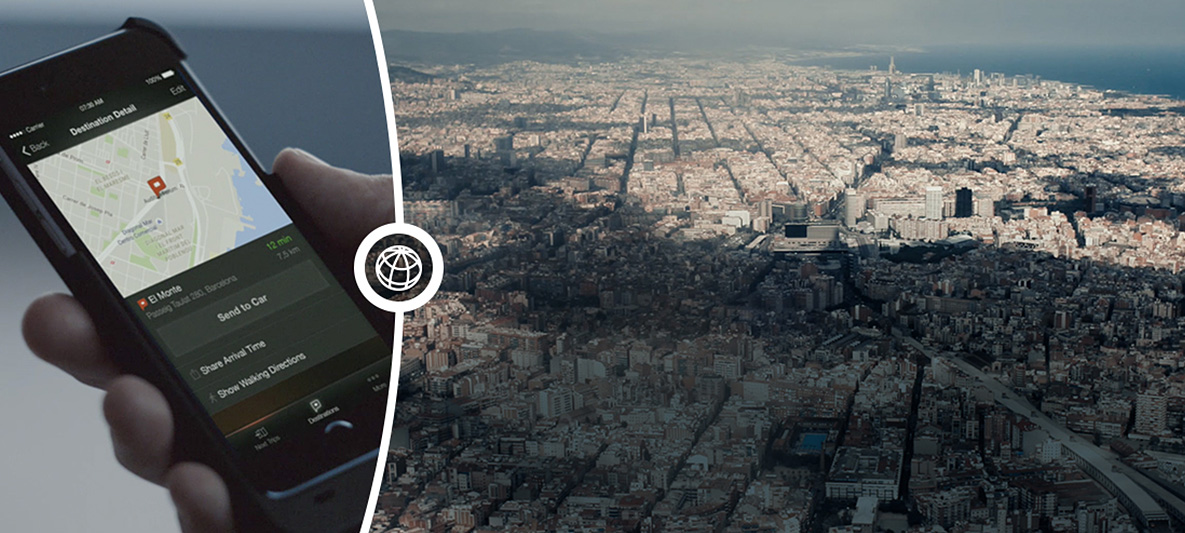 BMW CONNECTED.
BMW Connected is a personal mobility assistant which facilitates everyday mobility and aids drivers in reaching their destinations relaxed and on time. All relevant services are also remotely available at all times on iPhone und Apple Watch via the app.

Destinations that have been found in the web or via other application such as Yelp, Apple Maps, Google Maps can be easily and conveniently imported into BMW Connected and seamlessly transferred to the vehicles navigation system with just a single click. Meetings, including addresses and intended arrival times, saved in the iPhone calendar are automatically imported into the BMW Connected mobility agenda. Based on current location and traffic conditions, BMW Connect calculates the planned arrival time, alerts users ahead of time and guides them on foot from the parked car to their final destination. If a delay is unavoidable due to unforeseeable traffic obstacles or if no parking space is available in the immediate vicinity of the final destination, users can send a text message via BMW connected to inform the waiting party of the estimated time of arrival, without having to physically use their phone. In addition, BMW Connected learns to recognize frequent destinations and automatically adds them to the mobility agenda.

The BMW Connected App can be downloaded from the Apple App Store.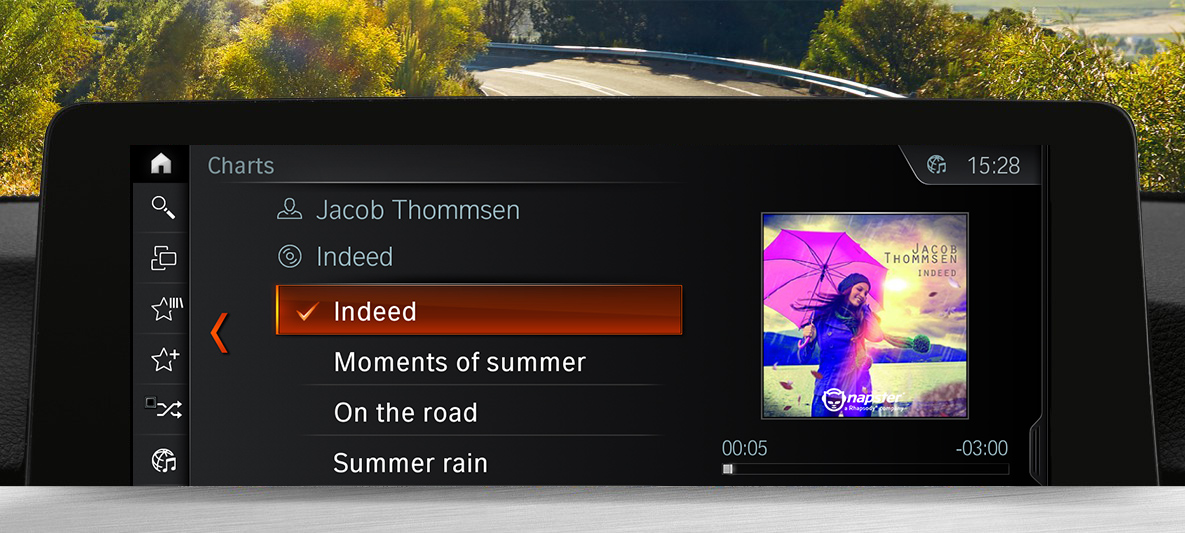 ONLINE ENTERTAINMENT.
The perfect track for every situation, every road and every mood. Online Entertainment offers direct and unlimited access to over 30 million tracks inside the BMW – all without a smartphone or other device. There are plenty of tracks here to suit every taste. As soon as an artist's song or album is played in the car, it is automatically downloaded to the car's hard
disc. For guaranteed listening enjoyment without any interruptions.
With the Online Entertainment package, a flat-rate account for the duration of one year can be opened with any BMW music partner, such as Napster or Deezer, which can be used in eight different European countries at no additional cost: Germany, Austria, Switzerland, France, Great Britain, Italy, Spain and the Netherlands.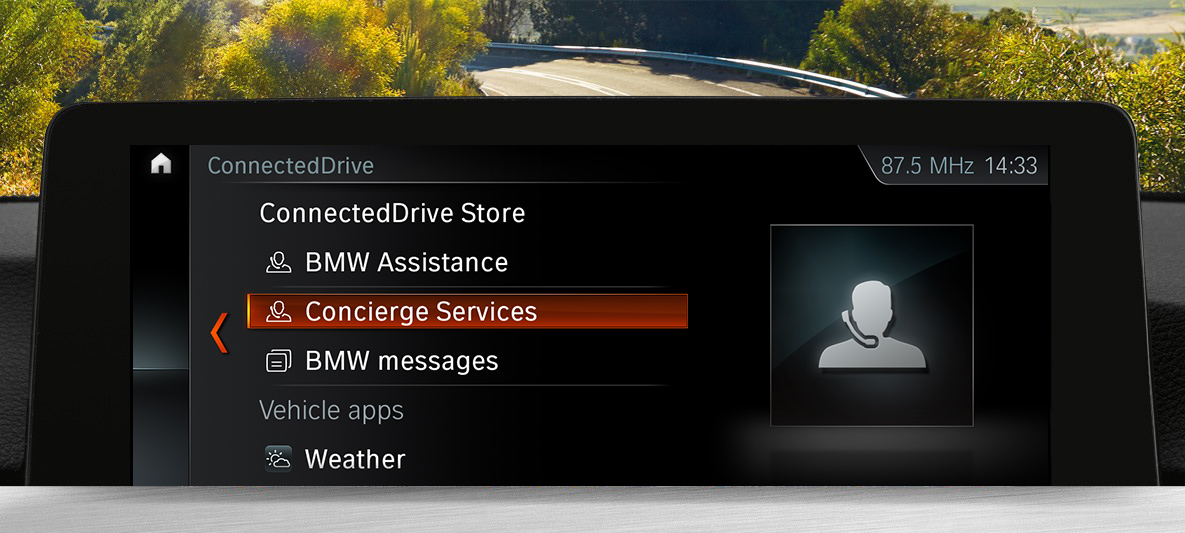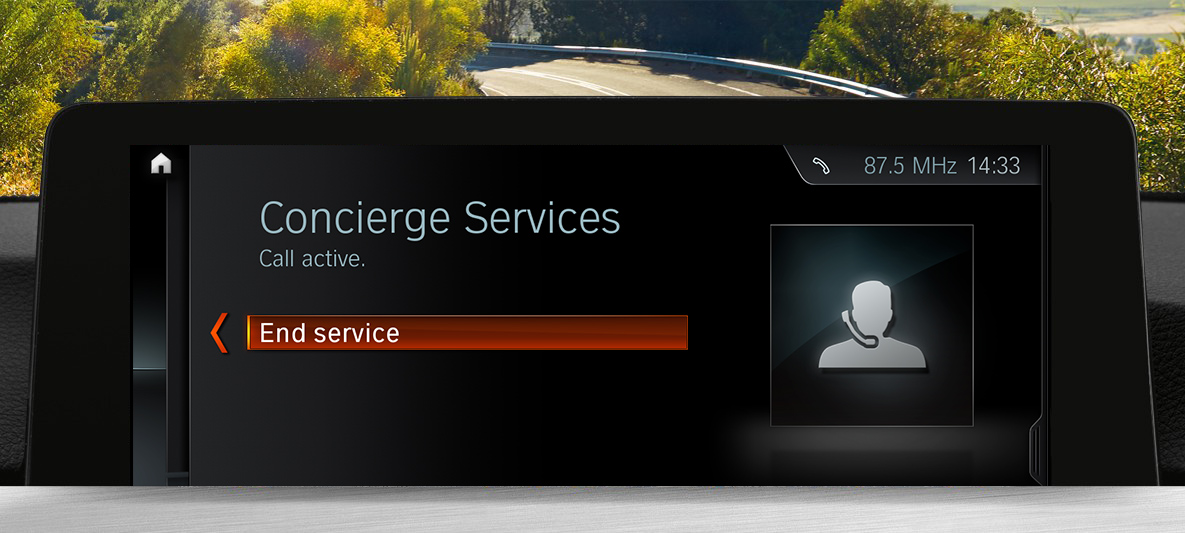 CONCIERGE SERVICE.
Request specific information on the road and receive practical information and tips – Concierge Services from BMW ConnectedDrive makes it possible. At the push of a button the driver is connected with a BMW Call Centre agent who acts as their "personal assistant" on the road.
Whether a particular restaurant, the nearest cash dispenser or an emergency pharmacy – the BMW Call Centre agent is there to help and can even send information directly to the BMW navigation system. The Concierge Service operates independently of the driver's mobile phone and is available in their home country and abroad, around-the-clock, seven days a week and at no extra cost.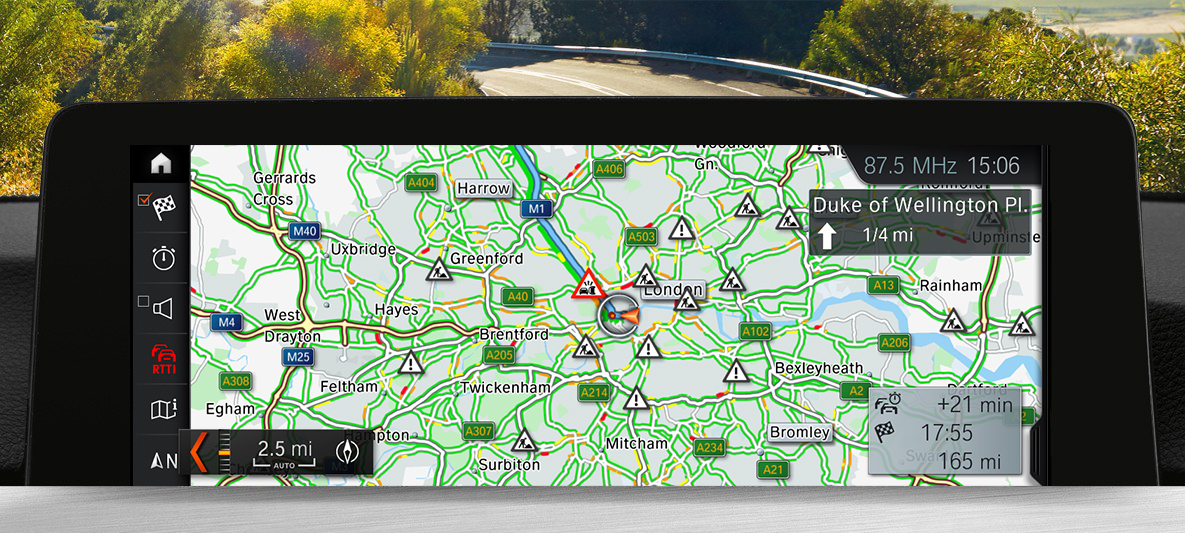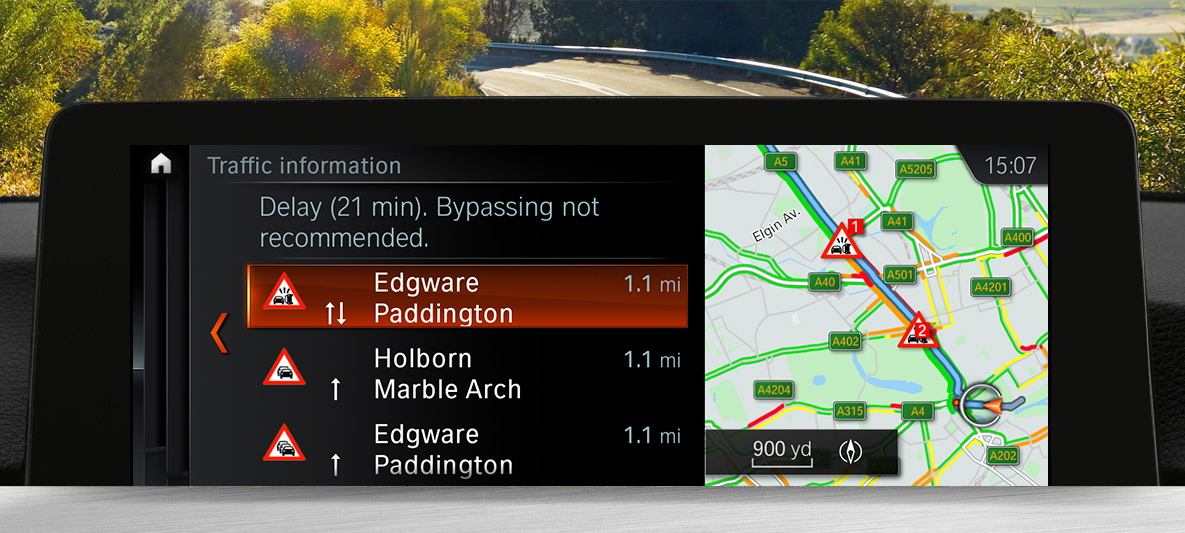 REAL TIME TRAFFIC INFORMATION.
Real Time Traffic Information (RTTI) provides the most up-to-date traffic information at all times. Precise details about the location and duration of delays are transmitted in order to keep the driver informed, practically in real time, about the current traffic situation on motorways, country roads and on many routes within the city. Intelligent alternative route suggestions help the driver reach their destination as quickly and efficiently as possible. The data are drawn from such sources as anonymous movement profiles from the GPS data of vehicle fleets, smartphone apps and police reports, and also takes into account established traffic patterns such as peak commute times.
The traffic information is clearly presented, with the roads depicted in green, yellow, orange and red.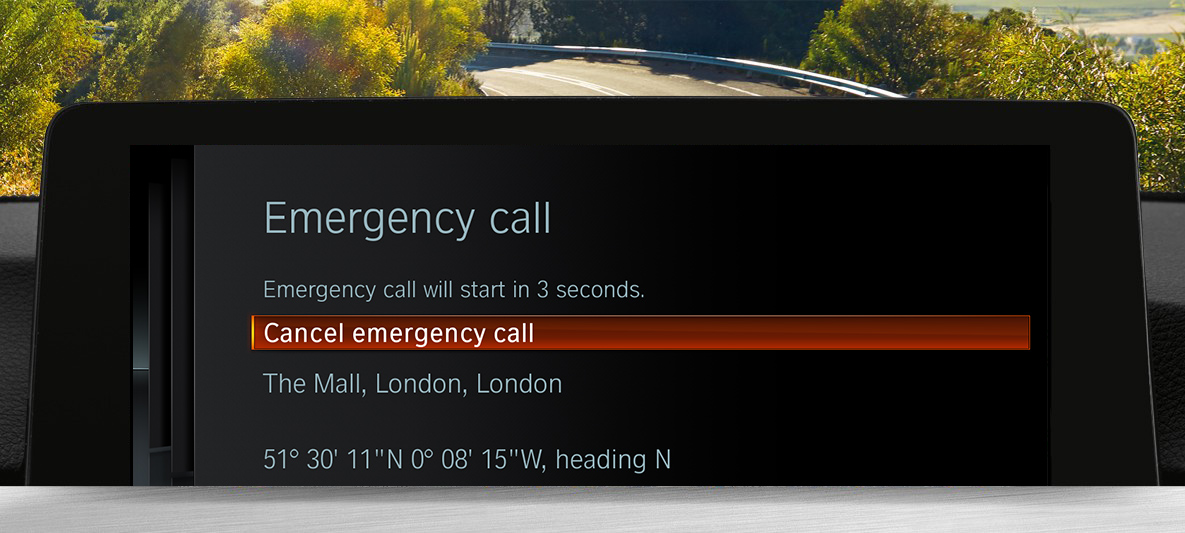 INTELLIGENT EMERGENCY CALL.
The Intelligent emergency call automatically establishes a connection with the nearest rescue coordination centre through the BMW call centre whenever needed – without the use of a mobile phone. It transmits information regarding the vehicle's current location and the severity of the accident. The Intelligent emergency call can also be triggered manually in case other road users require help, for example.